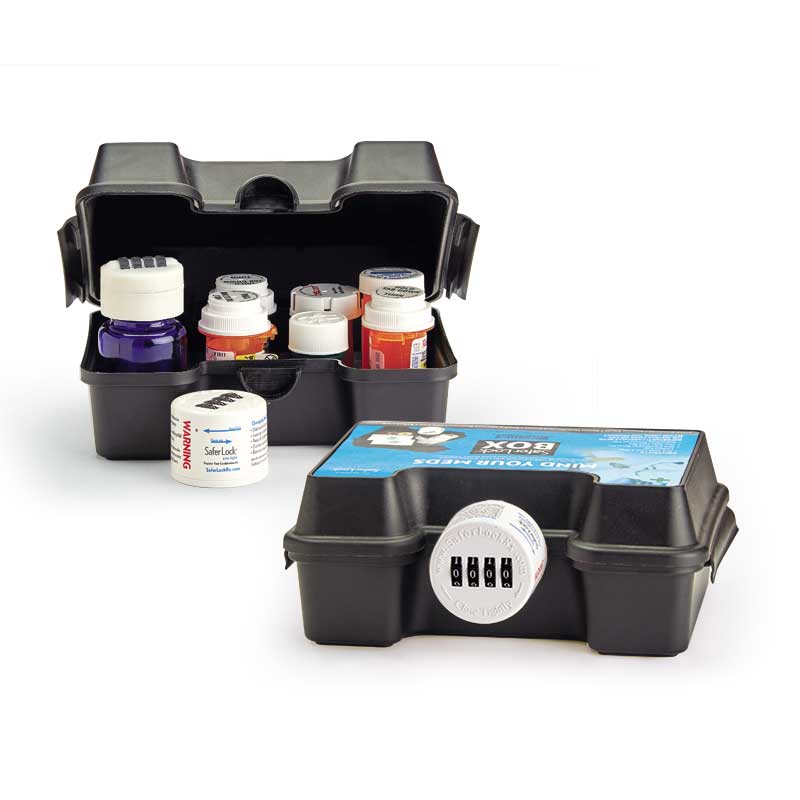 Safer Lock Box
According to the National Institute on Drugs, 2 million Americans misused prescription pain relievers for the first time within the past year, which averages to approximately 5,480 first time users per day. Additionally, more than one million misused prescription stimulants, 1.5 million misused tranquilizers, and 271,000 misused sedatives for the first time.
The Safer Lock Box offers the ability to secure multiple prescriptions and OTC medications in one container ensuring the protection against diversion and accidental misuse. The Safer Lock Box is made from polypropylene and is listed with the FDA. The Safer Lock Box dimensions are 7.5" wide, 5.5" deep, and 3" in height. Customized sizes and colors are available, some restrictions may apply.
Store All Your Meds In One Convenient Spot
The Safer Lock Medicine Box is made from sturdy food-grade plastic and locks with a 4-digit combination of your choosing. The Safer Lock medicine lock box is 7.5" wide, 5.5" deep, and 3" in height. This gives you plenty of space to store all your medications, not just prescriptions.
Use your lock box to secure:
Prescriptions such as opioid painkillers
OTC medications including cold medicines and cough syrups
Vitamins
Supplements
Pet medications
How The Safer Lock Box Helps Keep Your Family Safe
The Safer Lock Box is engineered for safety and security. Our sturdy design makes several improvements on the traditional medicine box, helping you keep your family as safe as possible. The Safer Lock is certified by the Consumer Product Safety Commission as child resistant and senior-friendly.
Our medicine lock box uses Safer Lock's patented 4 digit combination-lock. Securing your medications is easy; choose your combination and set the lock. You don't have to worry about losing a key again. You can even register your combination with us for easy recovery in the event you forget your personal code.
Your Safer Lock box is made from food-grade plastic and has been rigorously tested for safety and sturdiness.