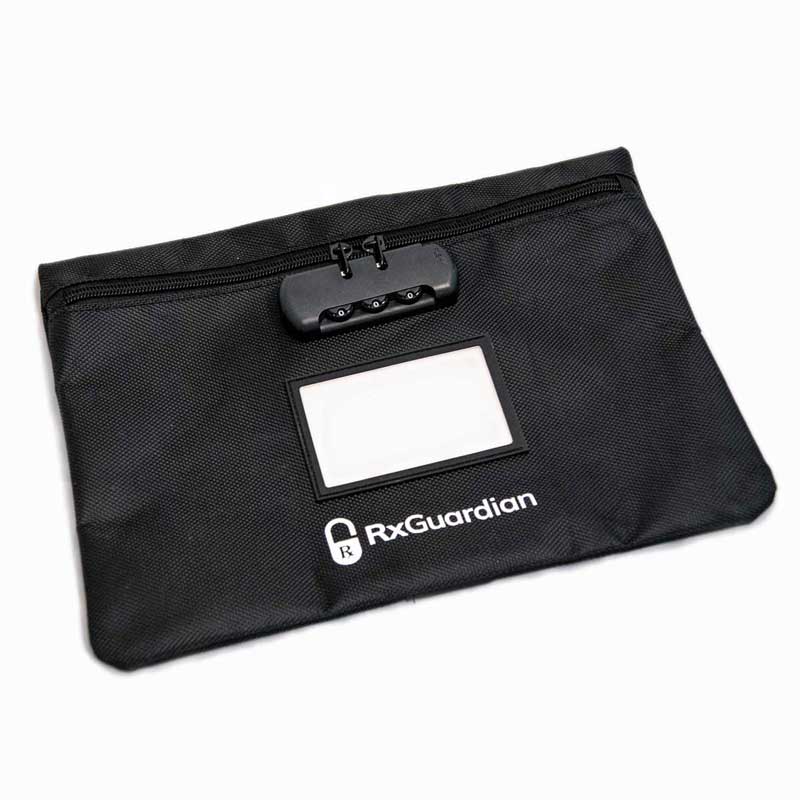 Rx Locking Bag
Unsecured drugs are at risk of being lost, stolen, or misused. Keep medications out of sight and safely secured by a combination lock, even when you're on the go.
The Rx Locking Bag offers you the peace of mind of knowing you have a convenient, secure medicine storage option wherever you are. The Rx Locking Bag is a soft-sided travel pouch that is 11.5" wide and 8.5" deep, secured with a 3-digit combination lock.
Take Your Medicine Safety To Go
The RX Locking Bag is made from sturdy fabric and locks with a 3-digit combination of your choosing. The bag measures 11.5" wide and 8.5" deep, with a convenient 3.25" by 2" area on the front to add a label, making it easy to identify and organize your bag. It features a convenient strap and carabiner on the back, making this a versatile, portable medication safety solution that fits easily into carry-on bags, purses, and backpacks.
The Rx Locking Bag is ideal for securing:
Prescriptions you need to carry with you, such as painkillers, allergy medication, or mental health medication
Vitamins and supplements
Pet medications
Over-the-counter meds, such as cold medicine
How The RX Locking Bag Helps Keep Your Family Safe
The RX Locking Bag is designed to offer the safety and security you need in a convenient, portable package. It makes an effective solution for travel when you want to secure your medications on the go. Your medications will be secured with Rx Guardian's 3-digit combination lock - simply choose your combination and set the lock. You don't need to worry about losing the key, and can even register your combination with us for easy recovery.
The bag is roomy enough to safely store multiple bottles, allowing you to stay organized while you're on the road and need to carry your medicines with you. Its compact size allows you for convenient storage in a bag, carry-on, suitcase, or hotel safe.
Available In Bulk for Your Organization
The Rx Locking Bag is an effective solution for organizations that need to manage prescription medications for multiple patients. The soft-sided bags can be stacked upright and labeled with patient names. It's a secure solution for organizations such as nursing homes and care facilities who need to safely and securely organize, store, and manage medications on a bulk scale.
The RX Locking Bag is available for purchase individually or in bulk. If you're interested in a bulk solution, each case contains 30 bags. The cases are 12" by 12" by 10" and weigh roughly 12 pounds.