Safer Lock is teaming up with the SafeLaunch non-profit to help families keep their children safe from prescription medication misuse and accidental poisoning in a sky-high collaboration.
SafeLaunch is Inspiring Kids to Look to the Sky
SafeLaunch is an innovative nonprofit focused on primary addiction prevention. "We started SafeLaunch to educate parents about brain development," says SafeLaunch Co-Founder Janet Rowse. She and co-founder Ron Cuff have taken that education to the skies with their Flights Above Addiction program that participates in regional aviation events and airshows along the West Coast.
In the Flights Above Addiction program, children have a chance to paint their own dreams on the fuselage of a white Cessna 182, flown into the aviation event by pilot Ron Cuff. First, though, they participate in an interactive lesson about the science of addiction.
"We tell the young artists that a great life is like a great flight: You need to plan your destination and keep a clear head to arrive safely," explains Ron.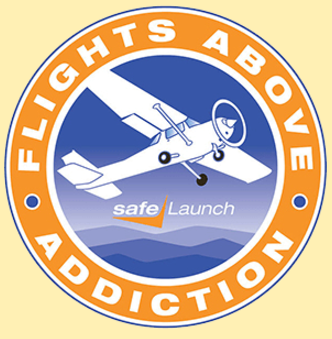 As they envision and then illustrate their dreams, the children have the chance to feel the possibility of flight and imagine the vast possibilities that a life without addiction holds. While the kids are painting away, volunteer educators share evidence-based prevention principles with parents to help them build their children's bright futures - free of alcohol or drugs.
But primary prevention calls for so much more than aspirational images on the fuselage of a plane. Among other things, it takes tools and resources, and that's where Safer Lock comes into the picture.
In an innovative collaboration, visitors to the Goleta Lemon Festival (near Santa Barbara on September 16-17) will receive a SafeLaunch Kit that includes a Safer Lock, a Premier Biotech drug kit and the SafeLaunch Parent Pledge card. These prevention resources are provided by Signature Flight Support, which delivers essential support services for business and private aviation.
As Safer Lock co-founder Nathan Langley points out, "In the world of medication misuse and accidental poisonings, prevention is king. We're honored to have this opportunity to work with SafeLaunch and help keep medications out of the wrong hands."
On a poignant note, SafeLaunch invites parents from across the country to memorialize a child's life tragically cut short by drug or alcohol use. As Janet explains, "When parents send us their children's picture and stories, we permanently affix their names and ages to the underside of the wings of the Cessna and put their stories in the Wind Beneath our Wings album that we share with young families at the air shows."
At aviation events along the West Coast, those names and ages are a silent tribute to lives lost. And the colorful images painted on the plane show young dreamers' imaginations of a life free of tobacco, alcohol and drugs…a life where the sky's the limit as dreams take flight.