Sacramento, California—December 6, 2016—Retail giant Lowe's is helping prevent prescription drug abuse by carrying Safer Lock locking prescription bottles; $14.99.
Look for Safer Lock in the Child Safety Area of the Hardware Department in 58 Lowe's stores in California, Oregon, and Washington. Safer Lock is also sold online nationwide at Lowes.com.
According to the American Society of Addiction Medicine, 1.9 million Americans have a substance use disorder involving prescription pain relievers. Often home is where drug addiction begins. Over 40% of teens have abused a drug stolen from a parent's medicine chest. Locking up prescription medications is an effective deterrent.
Safer Lock, a product of Sacramento-based Gatekeeper Innovation, is a four-digit (10,000 possibilities) combination locking cap developed to prevent unauthorized access to prescription medication. Set the combination to your (the patient's) personal preference. Without knowing the combination, no one can open the prescription inside without damaging the bottle itself. The locking cap comes with its own bottle; it also fits a wide variety of prescription bottles.
Safer Lock also helps ensure that young children aren't accidentally poisoned by powerful medications. Unlike childproof caps, a combination cap cannot be twisted off by a determined toddler. At the same time, Safer Lock has been tested and certified to be easier for seniors to twist open than a childproof cap.SaferLockRx.com.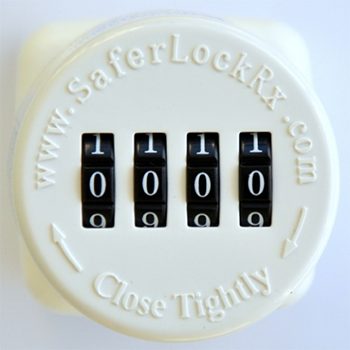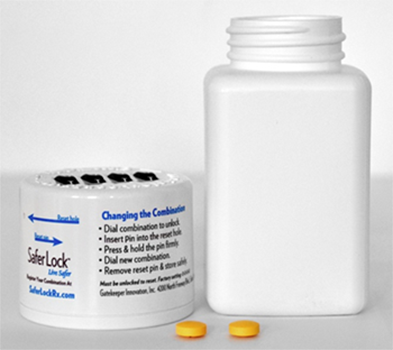 Safer Lock is sold at Lowe's home improvement stores in the following cities:
ALISO VIEJO, CA
ANAHEIM, CA
APPLE VALLEY, CA
BURBANK, CA
CHINO HILLS, CA
CLACKAMAS COUNTY, OR
CORONA, CA
COVINA, CA
FONTANA, CA
HAWTHORNE, CA
HEMET, CA
HIGHLAND, CA
HILLSBORO, OR
HUNTINGTON BEACH, CA
IRVINE, CA
LA HABRA, CA
LA QUINTA, CA
LACAMAS LAKE, WA
LAKE ELSINORE, CA
LANCASTER, CA
LOS ANGELES, CA
LONG BEACH, CA
MCMINNVILLE, OR
MENIFEE, CA
MIRA LOMA, CA
MORENO VALLEY, CA
MURRIETA, CA
NORTHRIDGE, CA
ONTARIO, CA
PACOIMA, CA
PALMDALE, CA
PALM DESERT, CA
PALM SPRINGS, CA
PICO RIVERA, CA
PORTLAND-DELTA PARK, OR
PUENTE HILLS, CA
RANCHO CUCAMONGA, CA
RANCHO SANTA MARGARITA, CA
REDLANDS, CA
RIVERSIDE, CA
SANTA CLARITA, CA
SAN CLEMENTE, CA
SAN DIMAS, CA
TEMECULA, CA
TIGARD, OR
TORRANCE, CA
TUSTIN, CA
UPLAND, CA
VANCOUVER, WA
VICTORVILLE, CA
WEST HILLS, CA
WOOD VILLAGE, OR