Providing a prescription delivery service for prescription medications meets the needs of patients and can also help protect the health and safety of both patients and pharmacy employees. COVID-19 concerns and shelter-in-place orders have made delivery services essential.
Some sources estimate that prescription delivery service can increase a pharmacy's revenue by 6% to 8%.
Some pharmacies employ their own delivery drivers, while others contract with third-party same-day delivery services.
Providing a prescription delivery service comes with a few key considerations, including:
How should I package medications for delivery?
When delivering prescriptions via courier, extensive packaging isn't typically required since the medications go directly from the pharmacy to the patient's home.
Maintaining Privacy
Protecting patient privacy is important when delivering medications via courier service. Medications should be packaged in a plain, non-transparent bag with just the patient's name and address on the outside of the bag.
Securing Schedule II Drugs
Certain Schedule II drugs, such as opioids and benzodiazepines, are at higher risk for diversion and abuse than other medications.
Securing Schedule II prescriptions with a locking cap or other added security layer can help protect pharmacies and courier services from diversion (and allegations of diversion). Adding an extra layer of security to Schedule II drugs can reduce the liabilities inherent in delivering these powerful medications.
Shipping Medications
The same privacy protection measures should be used when shipping medications. Place the medications inside a plain package that prevents the contents from being identified.
Prevent damage during transit by using cushioning or filler material to avoid breakage. Stamp or write "fragile" on the package.
When preparing liquids for delivery, take steps to prevent leakage and spilling.
Make sure the lid is sealed tight, placing waterproof tape around the lid, and double-bagging the liquid into plastic zipper closure bags. When packing liquids for shipping, use enough filler material to eliminate leftover space and prevent the product from tipping over. Stamp or write "this side up" and "fragile" on the package to help prevent the liquid from being flipped upside down or mishandled.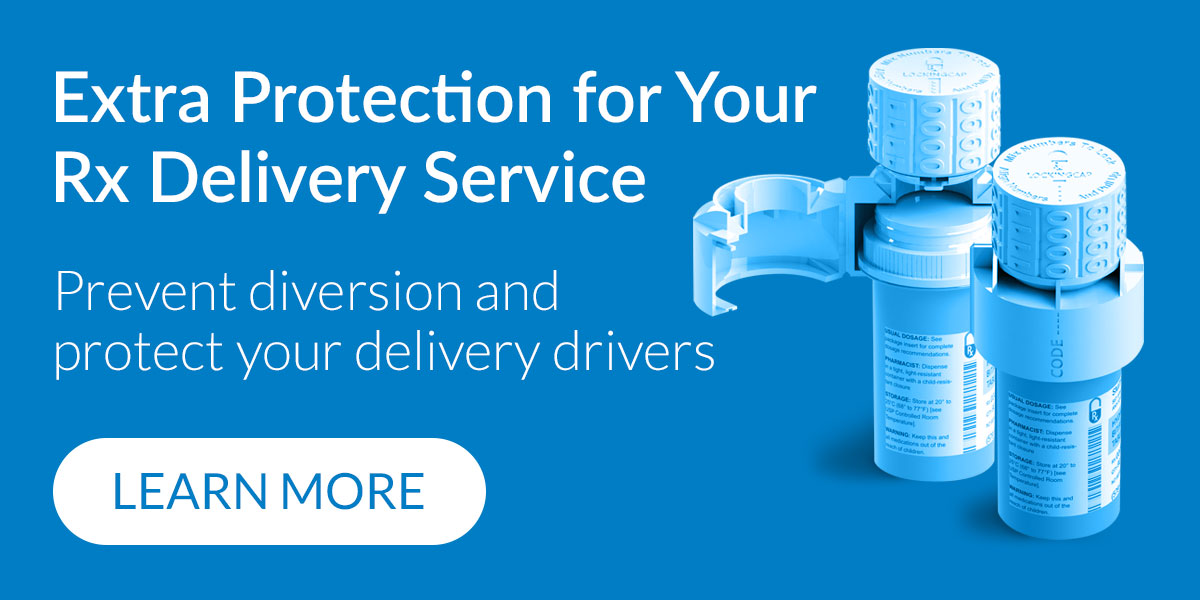 Refrigerated Medications
If your pharmacy delivers refrigerated medications, you'll want to make sure they maintain the "cold chain," a system of storing and transporting drugs at the recommended temperatures from the point of manufacture to the point of use to maintain drug potency.
Follow your pharmacy's policy for packaging to ensure that the cold chain is maintained. This may include measures such as placing items in a plastic bag to prevent condensation, shipping with cooling packs, using temperature monitoring devices in the package, and using express delivery to avoid shipping delays.
Security and Privacy are Crucial for Prescription Delivery
Security and privacy are key to successful prescription delivery. Safeguard patient privacy by keeping the content of their package hidden. Secure medications with an extra layer of security to avoid diversion – or allegations of diversion – and safely secure medications that will be shipped to prevent breakage and spillage.