The epidemic of opioid misuse and abuse is having a profound economic impact on the healthcare system. In just five years, the claims charged to insurance companies to treat opioid dependence or abuse grew from $72 million to $722 million — an increase of almost 1,000%, according to Optum.
The Rising Costs of Opioid Abuse to Health Payers
A 2015 study of privately billed services found private payers' average costs for a patient diagnosed with opioid abuse or dependence were more than 550% higher—almost $16,000 more per patient—than the per-patient average cost based on all patients' claims.
Opioid Abuse Costs Payers Up to $16,000 Per Patient Per Year
In 2015, the per-patient charge average (across all diagnoses and all claim types for all patients in the dataset) was $11,404. The per-patient average total charge for a patient identified with an opioid abuse or dependence diagnosis for the same year was $63,356. 
With respect to the amounts that are allowed by the insurance companies on a per-patient basis, the difference was 563%: the per-patient average allowed amount for all patients was $3,435 compared to the per-patient average of $19,333 for patients with opioid abuse or dependence diagnosis, according to the FAIR Health White Paper: The Impact of the Opioid Crisis on the Healthcare System: A Study of Privately Billed Services.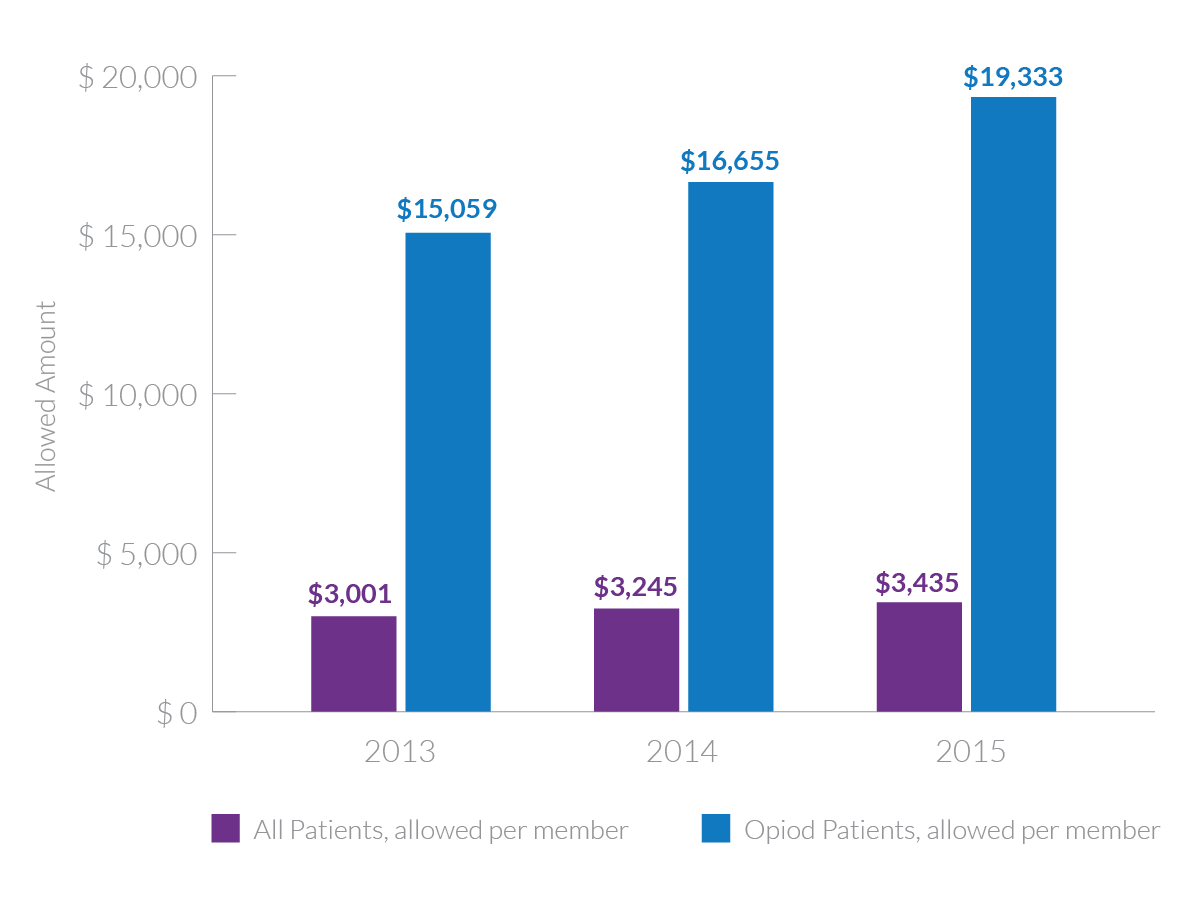 Preventing opioid misuse, abuse, and diversion could help private payers save up to $16,000 per patient per year.
FDA Supports Abuse-Deterrent Packaging as Countermeasure
In 2016, the FDA developed an Opioid Action Plan to reduce the impact of opioids on the American public. FDA Commissioner Scott Gottlieb, M.D. stated that one of his highest priorities is to take whatever steps necessary to reduce the scope and human tragedy created by the opioid epidemic, including supporting new innovations in opioid packaging and storage.
"We believe that innovation in packaging, storage, and disposal could have a meaningful impact on preventing or deterring misuse, abuse, or inappropriate access to prescription opioids – especially when coupled with additional efforts that the FDA and others are undertaking to reduce the scope of the opioid epidemic," Gottlieb announced.
The FDA continued to examine opioid packaging, storage, and disposal systems to enhance opioid safety through a public and private sector workshop that was held in June 2017.  A summary report, THE OPIOID EPIDEMIC: From Evidence to Impact, prepared by Johns Hopkins Bloomberg School of Public Health and the Clinton Foundation, Clinton Health Matters Initiative concluded:
"Building on injury prevention principles, a combination of passive protections, such as abuse-deterrent drug formulations, and safety enhanced packaging, storage, and disposal solutions, may significantly help to improve the safe use of prescribed opioids. … To maximize the likelihood of a positive impact, experts thought that solutions should be passive, cost-effective, supported by payers, and appealing to patients, providers, and pharmacists alike, without imposing excess burden." 
A Model for Implementing Low-Cost Abuse-Deterrent Packaging
In 2020, pharmacy benefit manager (PBM) OptumRx took part in a pilot program with a Northern California insurance company to add abuse-deterrent packaging to all schedule II - V drugs dispensed at regional pharmacies. At the request of the payer, OptumRx added Gatekeeper Innovation, Inc.'s Rx Locking Cap to its formulary. 
The Rx Locking Cap is a patented 4-digit combination locking cap that fits over prescription pharmaceutical bottles, reducing the risk of unauthorized use, misuse, or opioid diversion. The cost of the Rx Locking Cap, including a dispensing fee for participating pharmacies, is less than a cup of coffee per prescription to the private payer. 
The benefits to the payer, however, are vastly greater. Not only does abuse-deterrent packaging play a role in reducing the economic impact of the opioid epidemic, but it also helps protect patients from harm and reduces the diversion of prescription medications.
By adding the Rx Locking Cap to its formulary, OptumRx made it possible for its payer partners to cover the low-cost, abuse-deterrent Rx Locking Cap for their patients and enabled pharmacies to add this extra measure of security to the over 160 million opioid prescriptions written each year.

Ask Your PBM About the Rx Locking Cap
There is no single answer to America's opioid crisis. It will take a comprehensive approach to reduce the economic impact on individuals, employers, and other groups that sponsor health insurance plans. 
Adding abuse-deterrent packaging to opioid prescriptions to their overall opioid risk management program is a low-cost solution payers can implement to protect their patients and reduce the economic impact of opioid abuse.
Ask your PBM about adding the Rx Locking Cap to its formulary. Securing opioid prescriptions with abuse-deterrent packaging can help private payers fight back against the impact of opioid abuse, save up to thousands of dollars per patient per year, and help protect the millions of pain patients who rely on these drugs for a better quality of life.