As the opioid epidemic continues, finding secure ways to store your medication safely is becoming even more critical. Locking up your medication can help deter prescription abuse, misuse, and theft, which can often start in the home. The most common source of poisoning in children under 5 in the US is poorly controlled medications in the home, and locked pill bottles can help combat this issue. Learn more about how they work and how they can be used to keep you and your family safe.
How Do Locking Pill Bottles Work?
Locking pill bottles can help keep medications secure and reduce the risk of accidental medication poisoning in the home. Locking pill bottles can also help deter someone from trying to sneak a pill from your bottle, a task that is easy to manage with the standard pharmaceutical bottle, but becomes much more difficult when the bottle is locked.
How Our Combination Lock Works
RxGuardian's Safer Lock is a locking pill bottle that uses a four-digit combination cap to secure medications. Our combination cap can fit many existing prescription bottles, or can be used with a bottle (provided with purchase).
Our patented locking pill bottle has a 4-digit combination lock with 10,000 possible combinations. The combination to the cap can be set by patients and caregivers. (For bulk orders for organizations, you can preset and assign lot numbers.)
No need to worry about any keys or methods of access, except for the combo. In case you're worried you might forget the combination, you can register your combinations here for easy reference.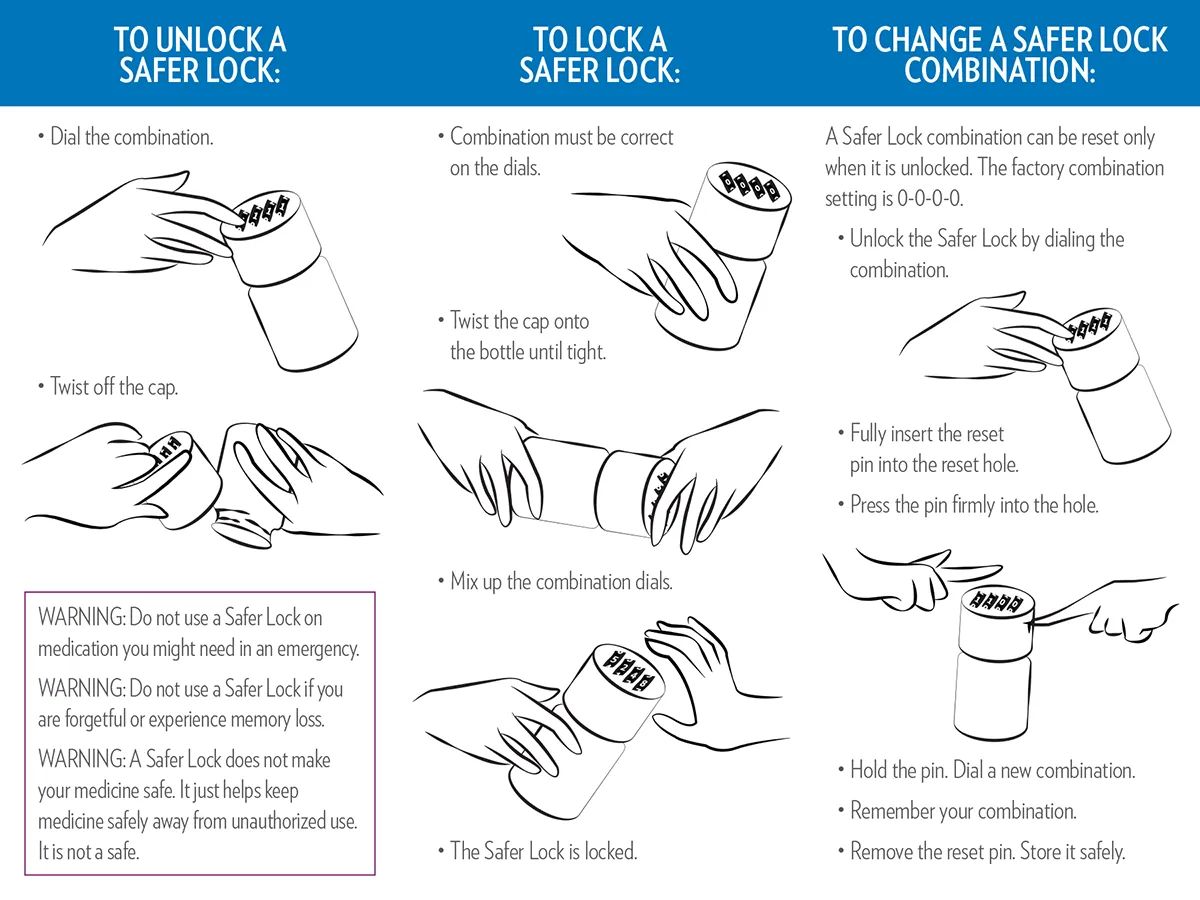 How the Safer Lock Reveals Tampering
If someone tries to access your Safer Lock bottle and pry the lid off or tamper with the bottle in an attempt to access the medications inside, the tamper-evident bottle makes it obvious. If the bottle has been tampered with, the lid will spin freely without opening. This is an indication that someone has attempted unauthorized access to the bottle.
Are Locking Pill Bottles Tamper-Proof?
No pill bottle is completely tamper-proof. The only completely tamper-proof method of securing medications is to lock them securely in a steel safe. The Safer Lock and Safer Lock box, for example, are made from food-grade plastics. Someone on a mission to gain unauthorized access to your medications could get into the bottle through various means; however, a destroyed bottle would definitely be an indication of medicine theft.
Our tamper-evident combination locking solutions help families prevent accidental access to powerful prescription medications. They are more effective than child-resistant caps that come standard on prescription bottles to keep young children and exploring teens from accessing medications not meant for them.
In an organizational setting, such as a long-term care facility, the combination cap can also help protect patients from unauthorized access of medications.
The Safer Lock is also USP 671 certified, which measures moisture resistance, and is also certified by the Consumer Product Safety Commission as senior-friendly and child-resistant. The lock can fit over most common pharmaceutical vials available on the market.
Study Finds Parents Regularly Fail to Secure Medications
According to a study, only 4% of caregivers stored medication in a locked or latched place, with 38% saying that the main obstacle in safely storing medication was the lack of a lock or latch to do so. If given the opportunity 92% of the participants reported that they would lock medication up if given the chance. After being given one over 90% of the caregivers reported using it and were satisfied with the results.
How to Store Multiple Medications Safely
The Safer Lock Box allows for safe storage of multiple prescriptions. You can store numerous different prescriptions, all protected by the same four-digit combination and sturdy, food-grade plastic. You can also feel free to store:
OTC medications, including cold medicines and cough syrups
Vitamins
Supplements
Pet medications
The Evolution of Prescription Bottles
They first hit the scene in the 19th century and were initially called medicinal bottles throughout both the 19th and 20th centuries until prescriptions became commonplace in society. They often would include cotton or some other cushion to protect pills from breaking apart. Now, pills are coated, and there is rarely a need for the inclusion of cotton balls. In fact, the National Institute of Health recommends that you remove the ball after you open the bottle for the first time to avoid attracting any moisture.
In 1970, Congress passed the Poison Prevention Packaging Act of 1970 in reaction to a history of accidents involving children opening household packaging and ingesting the contents. This innovation in medication packaging helped decrease the number of accidental childhood medication poisonings. However, the design had its flaws. Older adults have complained about difficulty opening child-resistant packaging due to conditions such as arthritis, while young children and toddlers continue to demonstrate an uncanny ability to access prescription medications.
The first wave of the opioid epidemic took place in the 1990s, and in the three decades since, has only worsened. Misuse and unauthorized access of prescription painkillers has contributed to opioid abuse disorder and overdose deaths. It has highlighted the need for more effective and secure packaging for prescription medications to protect patients and their families against diversion and unauthorized access.
Today, locking pill bottles demonstrate the newest innovation in prescription bottles, and provide a safer, more secure solution for prescription medications.
Storing and locking up medication is one of the most impactful ways to combat against accidental home poisonings and medication abuse. Securing medication safely has never been easier, and with Safer Lock, you can do so easily in your own home. Check out our various products specially designed for locking medication, as well as our Dispose Rx, made especially for disposing unwanted or unused medication you may possess.