When was the last time you organized your medicine cabinet? If it's been a while since you've sorted through your prescriptions, or given your stash of over-the-counter meds a good once over, here's one very good reason to do so:
Disposing of expired or unwanted medicines can save a life, and help reduce prescription drug addiction.
A Prescription for Problems
Prescription drug addiction and over-the-counter medicine abuse are very real problems facing America today. Prescription drug addiction has reached epidemic proportions in the U.S., for adults and teens alike.
Would you notice if one or two pills were missing from a bottle you keep in a bathroom medicine cabinet and haven't touched in months?
Probably not.
And that's exactly how teens are getting their hands on opioid painkillers, ADHD medicines, sedatives, and other prescription drugs. Unlike many other illicit "street" drugs, prescription and over-the-counter medications are easy to get.
Once prescription drug abuse becomes an addiction, addicts will go to surprising lengths to get their fix.
A teen addict may use his weekend job mowing lawns around the neighborhood as a way to get access to medicine cabinets; all he has to do is knock on the door and ask to "use your restroom, please."
An adult addict may spend a Saturday touring homes for sale, rummaging through bathrooms looking for meds while the real estate agent is distracted by another prospective homeowner.
A teenage granddaughter may use a recent surgery as an excuse to visit grandma and is more than happy to help fetch the prescription pain pills from the kitchen counter. No one will notice that one is missing.
Medicine Disposal Helps Prevent Prescription Abuse
When you eliminate expired and unwanted medications from your home, you are taking a step towards reducing prescription drug abuse. Your medicine cabinet is no longer supplying drugs for teenage kids, grandkids, neighbors, house-sitters, or anyone else who may have access to your home.
The #1 reason teens are turning to prescription drugs to get high is the ease of access. What's worse, many teens mistakenly think that a prescription drug is safer than an illicit street drug, because it was prescribed by a medical professional.
This mistaken "safety" belief can have deadly consequences: every day 128 people die from an opioid overdose. There are now more deaths per year from prescription drugs than deaths from guns, or even car accidents.
Removing easy access to prescription medications is the first step to reducing prescription drug abuse that can lead to addiction.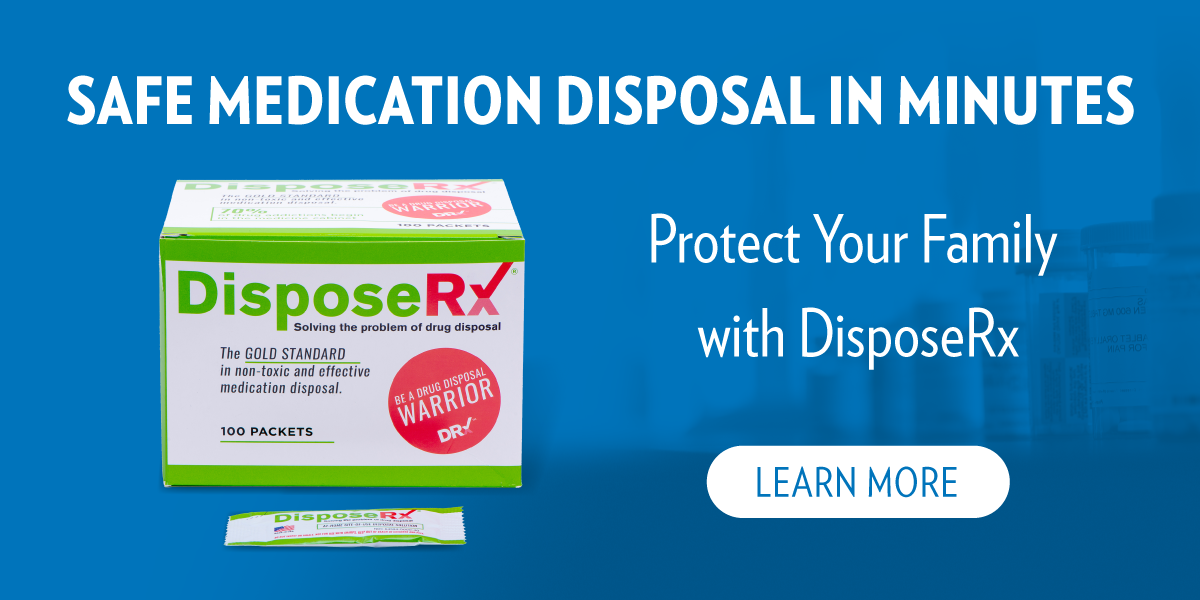 Prescription medications are not the only drugs found in your medicine cabinet that can be abused. Over-the-counter (OTC) cough and cold medications are also being targeted by teens as a cheap, easy way to get high.
More than half of all OTC cough and cold medications contain an ingredient known as dextromethorphan (DXM). When taken in large amounts, DXM can produce the same out-of-body experience as PCP. As many as 1 in every 10 teens admits to having used DXM containing cough or cold medications to get high.
OTC meds are more dangerous than you may know, and teens who take them in large amounts can end up addicted, have severe side effects, and even fatal overdoses.
New Laws Push for more Access to Medicine Disposal
Lawmakers are aware of the potential for medicine disposal to help reduce prescription drug abuse and addiction and are doing their part to make it as easy as possible for you to clean out your meds.
Sacramento Congressman Ami Bera and Tennessee Congressman Phil Roe recently introduced the DROP Act, which provides 24/7 drop-off kiosks for law enforcement agencies, pharmacies, hospitals, clinics, and treatment centers to take unwanted medications.
Local law enforcement agencies often host Drug Take-Back days, and the U.S. Drug Enforcement Administration (DEA) hosts National Prescription Drug Take-Back events nationwide.
How to Dispose of Your Old Medication
Ready to go through your meds? Disposing of your medication requires a bit more thought than tossing a pill bottle into the trash or flushing some pills down the toilet.
Go through your medicine cabinet and look for expired, unwanted, or unneeded medications.
Remove any identifying information from bottles: your name, the prescription name, etc.
Locate a pharmacy, hospital, or law enforcement agency near you that will accept your unwanted medications.
Find a local Drug Take-Back event in your community.
Dispose your meds safely at home using DisposeRx (a nontoxic solution that dissolves medications)
Lock up medications that you are still using, and store out of reach and out of sight of children in the home.
Do not flush or toss pills. Prescriptions that are flushed can end up in the local supply of drinking water. Medicines that are thrown out in the trash can still end up in the hands of an addict. What's worse, throwing away a prescription bottle with your personal information, such as name and prescription type, could lead to a risk of home break-ins, theft, or worse.
Proper medication disposal can help keep your family safe from medicine abuse that can lead to drug addiction or overdose. By keeping your medicine cabinet clean and organized, properly storing your prescriptions with locking medicine storage, and keeping medicines out of the hands of your children, you can help reduce the epidemic of prescription drug abuse.