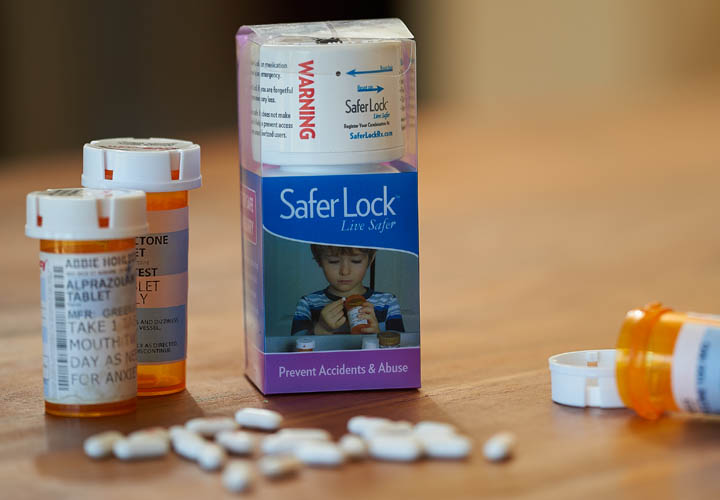 About Us
The RxGuardian Story
RxGuardian Inc. offers tamper-evident and abuse deterrent technology while supporting medication adherence. RxGuardian's mission is to provide options for securing prescription medications to help prevent Diversion and Substance Use Disorder.
The White House Council of Economic Advisors (CEA) estimates the opioid crisis cost the U.S. $696 billion in 2018—or 3.4 percent of GDP—and more than $2.5 trillion for the four-year period from 2015 to 2018 with unauthorized access to prescription drug medication as a leading contributing factor. RxGuardian Inc. provides supply-side interventions that are easy and inexpensive to implement, including:
Safer Lock: patented combination locking products including a locking pill bottle and locking medicine box.
Rx Locking Cap: a patented combination cap that fits over standard pharmaceutical vials.: a patented combination cap that fits over standard pharmaceutical vials.
RxGuardian Inc.'s product portfolio is available online, through our retail partners and as an insurance benefit.
RxGuardian's Vision
RxGuardian's vision is to be the premier provider of solutions that help prevent Diversion that leads to Substance Use Disorder. RxGuardian is collaborating with health insurance organizations to offer the locking cap portfolio as a benefit, to be dispensed along with prescription medications. Additionally, RxGuardian's locking cap offers the ePharmacy market a safe, secure, delivery option for home delivery.
The global ePharmacy market size was valued at USD 33.03 billion in 2016 and is projected to grow over USD 100B at a CAGR of 14.8% through 2025. RxGuardian has an IoT locking cap prototype designed to provide adherence analytics with intentions to include compliance.
Nathan Langley, Founder, CEO
Nathan Langley is the Founder and CEO at RxGuardian. A thought leader on prescription medication misuse and abuse, Mr. Langley is a part of the National Pain Care Forum and the Abuse Deterrent Coalition, which collectively develop initiatives and drive legislation to improve pain care and reduce prescription drug abuse in the U.S. Mr. Langley received his Bachelor of Science in Business Administration with a concentration in Entrepreneurship from California State University, Sacramento. He was recognized by the Sacramento Business Journal as a 2016 "Top 40 Under 40" honoree.